HELIXIUM Eye Contour Serum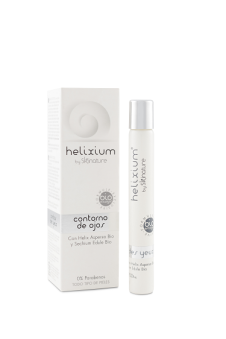 Ord. pris:
538 kr
425 kr
Inkl. 25% Moms
Art.nr:
P1799585
Du sparar:
113 kr (21%)
Antal:
Finns i lager
Based on BIO Helix Aspersa secretion / BIO Sechium Edule, ecological royal jelly and elderberry.
98% of the ingredients is from natural origin. 20% of the total ingredients is coming from biological agriculture.
Helixium Eye Contour Eye Serum är en tunn och känslig ögonkontur utvecklad med färskt serum som skyddar och stärker cellförnyelsen.Innehåller ett unikt organiskt extrakt av Helix Aspersa, rik på allantoin, glykolsyra och hyaluronsyra. Dessutom lugnande örtvatten, upphöjt havrextrakt och antioxidant och aminosyrainnehållande aprikospotatis. Applicera på Helixium-Misfolded Cleansed Skin på morgonen och kvällen med en smart roll-on. Skaka före användning.
The area around the eyes is thin, fragile and marked by time passing.
The unique combination of HELIXIUM complex, naturally regenerating and antioxidant, with elderberry floral water decongestant and the BIO complex Osilift tensor, delivers a reserve of energy in the cell heart for a renewal of the skin.
A fresh and light formula that melts gently on the skin.
The snail secretion is very rich:
Allantoin: cell regeneration.
Proteins and vitamins: skin nutrition.
Proteins capable of breaking down the bacterial cell walls.
Glycolic Acid: regeneration of damaged tissue.
The hyaluronic acid retains large amounts of water to keepthe skin hydrated.
– The Sechium Edule: Regenerator, Antioxidant.
– The derivative Osilift BIO oat with lifting effect.
10ml
Innehåll:
Aqua, Citrus paradisi fruktvatten *, Snailsekretionsfiltat *, Avena sativa (havre) kärnkstrakt *, Sechium edulextrakt *, Royal gelé, Rhizobian gummi, Xanthangummi, Glycerin, Cyamopsis tetragonoloba (guar) gummi, Kaprylyl, Natriumlevulinat, Levulinsyra, Kaliumhydroxid, Kaliumcitrat, Natrium, Benzoat, Kaliumsorbat, Dehydroättiksyra, Citronsyra, Bensylalkohol.
#snigelslem